Now featuring InHarmony Sound Lounge Experience
Enjoy 15, 30 or 60 minutes reclining on our relaxing Inharmony Sound Lounge. Listen to music that shifts you into a relaxed, meditative state while the Sound Lounge produces synchronized vibrations that are felt throughout the body. This relaxed state enhances your immune and digestive system, detoxifies the body, relaxes muscle tension and improves clarity. Select "Biobalnce Room" when scheduling your session online. Learn more about InHarmony with this YouTube Link:
Click Here to Learn More about the InHarmony Experience
InHarmony Sound Lounge Session in the Biobalance Room:
$15 for 15 min
$30 for 30 min
$60 for 60 min
Welcome to
Myofascial STL Plus-
A Center for Complementary Health Services
Myofascial STL PLus is a therapy center offering a hands-on approach to treating pain, dysfunction, stress and anxiety. Therapy is applied in a one hour, one-on-one treatment session in a compassionate and relaxed atmosphere.
Accurate assessments, appropriate treatment and providing the atmosphere for true healing requires attention to one client at a time. Our clients continually comment how much they appreciate the time taken to hear their stories and allow them to have their concerns addressed. Compassion combined with years of experience enables our therapists to provide the high level treatment our patients have been seeking.
There is a difference in Therapy Centers.
What is Myofascial Release and Craniosacral Therapy?
Myofascial Release and Craniosacral Therapy are structural approaches that treat the CAUSE of the condition and not just the symptoms, and this is what produces long lasting results. This is how these approaches relate to some of the more common conditions treated in our clinic:
What is Fascia?
Fascia is a tough connective tissue that spreads throughout the body in a three-dimensional web from head to foot without interruption.
The fascia covers the muscles, bones, nerves, organs and blood vessels down to the cellular level. It is said that if we could remove all structures of the body except the fascia, the body would retain its shape. When injured, (injury includes trauma, inflammation, surgery, poor posture, stress, and repetitive use), fascia binds down like bailing wire and can exert up to 2000 pounds per square inch on these pain sensitive structures. The tension causes altered posture, excessive joint compression, decreased range of motion, decreased muscle efficiency and multiple other symptoms patients struggle with daily. In some patients, blood vessels and nerve roots can become caught which creates entrapment syndromes and ischemic-like conditions.
See Fascia
Physical Therapy Forum, Week of April 25, 1988 (this article references the following three)
"Physoilogy of Exercise" by Herbert A deVries, 1986
"Journal of Applied Physoilogy" August, 1981: Vol. 5, pgs 317-320
"New Scientist" John Scott "Molecules that keep you in Shape" July 24, 1986 pts. 49-53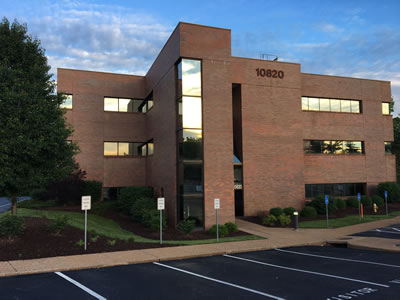 10820 Sunset Office Dr #110
Sunset Hills, MO 63127
map

Other Common Conditions
Widely Seen at Myofascial STL Plus:
Neck and Back Pain
Chronic Pain
Headaches/Migraines
Spinal Cord Injury
Traumatic Brain Injury
Stroke
IBS
Dental Misalignments
Musculoskeletal Misalignments
Carpal Tunnel Syndrome
ADD
ADHD
ASD
Anxiety
Stress related disorders
PTSD
Trauma
Colic
GERD
Plagiocephaly
Torticollis
Bed Wetting
Pelvic Floor Dysfunction/Urinary Leakage/Frequency
Lymphedema
Difficult Edema (Swelling)
Athletic Performance Blocks

How can Myofascial STL Plus address so many conditions?
Myofascial and Craniosacral restrictions can lie in the tissues undetected by conventional imaging techniques. However, these tight areas are easily palpable by a skilled practitioner. The restrictions can result in dysfunction, limited movement or pain which can affect the function of the surrounding tissues and organs. With the application of light pressure, these tissue restrictions begin to soften, relieving pressure on the surrounding tissues and organs. These restrictions may not actually originate in the symptomatic area, as the fascia is a continuous web that surrounds every cell and organ in the human body. A restriction, or snag, in one area of the fascia can pull to another area. It is entirely possible to have a restriction in one area of the body with an origin of pull from another.


What is EFT(Emotional Freedom Technique)/Tapping?
Myofascial STL Plus has recently added EFT/Tapping. EFT/Tapping is a self help approach that combines tapping to acupressure meridian points to address the body's charged emotional responses to stress, trauma, anxiety, cravings, pain, disease. It is a technique to rewire the brains automatic flight or fight response. This is the most widely researched Complementary Health Service in the world. It is an easy to learn and use technique, clients leave the first session with a daily skill to address their situation. More information and research articles to be posted soon. Try this EFT/Tapping exercise for stress or pain on the Trucking Through Life podcast by Michelle Woodruff.Be sure to check back for updates!
For more information on EFT(Emotional Freedom Techique)/Tapping research, click the link below:

https://eftuniverse.com/research-studies/